Barilla Works with BeeGraphic & Digimarc to Promote Consumer Engagement
How can brands promote loyalty as well as reach a younger demographic in an ever-changing, competitive marketplace? The answer is straightforward, but not always easy to achieve: direct consumer engagement. It's the gold standard for brands, and innovations in packaging design and mobile technology have made this goal a reality.
BeeGraphic is an Italian-based company focused on helping clients increase their customer loyalty. It provides package design and consumer marketing expertise and offers Digimarc Barcode for product packaging. Digimarc Barcode provides a reliable digital identity through subtle adjustments to the brightness and intensity of colors in product packaging, retail scale labels and shelf-edge tags, and represents the next generation of barcodes. Along with the consumer engagement benefits for brands, Digimarc technology also helps retailers make checkout and inventory management easier and more efficient.
Digimarc Barcode is a fantastic value-add that allows us to offer innovative packaging technology to our clients. Internally, we've also found it easy to integrate Digimarc technology with our solution 'StealthCode' developed by our engineering and data collection team.- Goliardo Butti, General Manager, BeeGraphic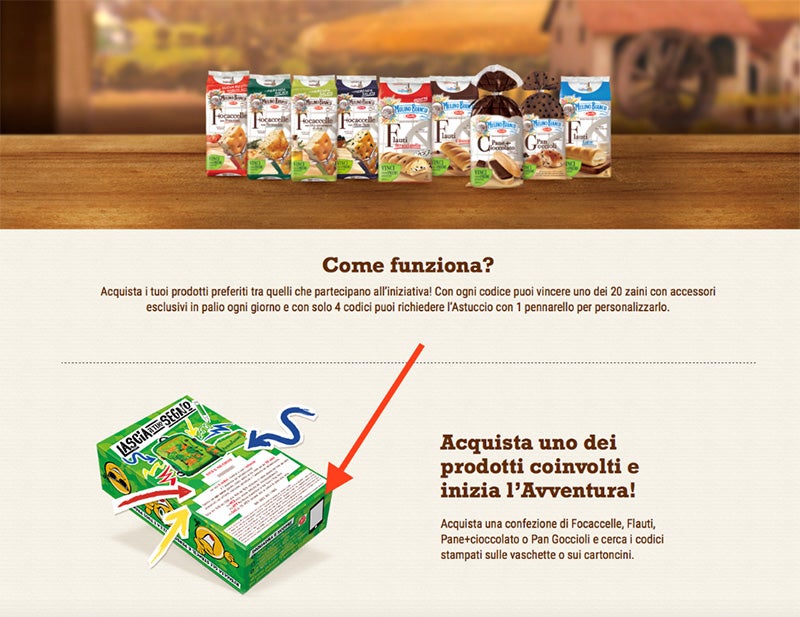 Barilla advertisement directing customers to scan baked goods boxes with their phones to access brand content.
Back to School with Baked Goods
Barilla created a campaign to engage the 10- to 20-year-old demographic for its "Top Quality Brand" (Mulino Bianco) of bakery products (Focaccelle, Pan Goccioli, Pan Cioccolato, Flauti). The campaign was called "Back to School 2017," and was designed both to directly engage consumers as well as collect and analyze the interaction data.
The packaging artwork was enhanced, with Digimarc Barcode, by BeeGraphic and the call-to-action prompts the consumer to scan the box to watch videos explaining how to participate and win prizes like backpacks and pen/pencil cases. Barilla was able to direct consumers to alternating URL destinations, because of the "StealthCode" solution that allowed for the sequencing of different links. Beegraphic then reported data, related to the campaign, back to Barilla in real time, who had the option of dynamically changing the URL within the Digimarc Barcode Manager to serve up the more popular link.
"'The Back to School 2017' campaign achieved its strategic goals. Barilla had been hoping to increase mobile engagement among young consumers and promote positive brand experiences, and the metrics bore this out," said Goliardo Butti, General Manager, BeeGraphic.
Goliardo reiterated his belief that Digimarc technology is a key tactic in helping BeeGraphic's clients achieve their strategic ends. "Digimarc Barcode is a fantastic value-add that together with our solution 'StealthCode" will improve customer engagement and brand loyalty like never before," said Butti.