Growing up in North Carolina as a child of a Palestinian-immigrant father and an American mother, Digimarc's Ameena Alattar experienced both the dynamism and the complexity of growing up in a mixed-culture household. "It was an experience that required a lot of internal thought," she said. "You have to figure out how you both fit in, and don't fit in. You have to make the experience your own."
When she was still a child, her family—which included six siblings—moved to Oregon where they found an anchor at the Islamic Center of Portland, which has remained a pillar of faith and community for Ameena and her family ever since. She admits it hasn't always been easy being a Muslim woman in America, because she is often perceived as being "other," or as being foreign.
"Our family has received our fair share of: 'You're in America now. Look and act like an American,'" She said. "Which I've, of course, responded with: 'I was born in North Carolina. I can't get any more American!'" But occasionally brushing up against ignorance, has had little effect on Ameena, who is focused on the joy of connection and bringing happiness to others.
All in the Family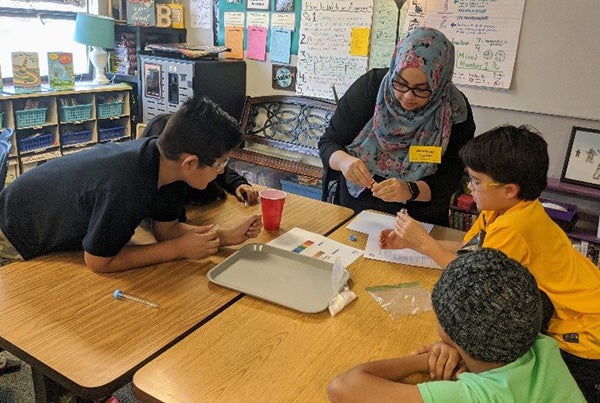 Ameena began at Digimarc in 2018 working as a packaging control specialist, verifying the readability and scanability of Digimarc Watermarks on packaging. Her attention to detail was immediately noticed by her supervisor, and she became a full-time quality control specialist. She went on to work for the commercial research team, leading the QA efforts for various printing, sustainability and customer-fulfillment projects. Most recently, she has moved to the government team as a QA Engineer, where Digimarc's work with security documents requires team members with a dedicated eye for detail.
Ameena isn't the first Alattar, or even the second Alattar to work for Digimarc, but the third. Her uncle, Adnan Alattar is Digimarc's principal R&D engineer, and has been with the company since its earlier days, joining in 1998, where he has made significant contributions to the development of Digimarc's technology. A year after her uncle began at Digimarc, her father Osama Alattar, Digimarc's Sr. Staff R&D Engineer, also took a position at the company, and has authored a number of important Digimarc patents. "It's not always easy coming into a company where your family has established themselves, but I've found my place and understand the significance of my contributions," she said.
It is not lost on Ameena that women are not properly represented in both the technology field and STEM careers, and she believes that more women in these fields will bring a valuable perspective. "I would say to any young woman who wants to get into tech or engineering, 'Do it!' The field needs more women and the perspective and balance they can bring.
Food as Connection
The Alattar family spoke English in the home when she was a child, but Ameena learned Arabic after school during religious studies classes. Her father Osama—one of 13 children—has siblings living in a number of countries, which allowed Ameena to travel abroad extensively as a child, visiting Palestine, Egypt, Qatar, the United Arab Emirates and Canada, among other countries.
As she learned more about her Palestinian background, she began to appreciate the connection between culture and food.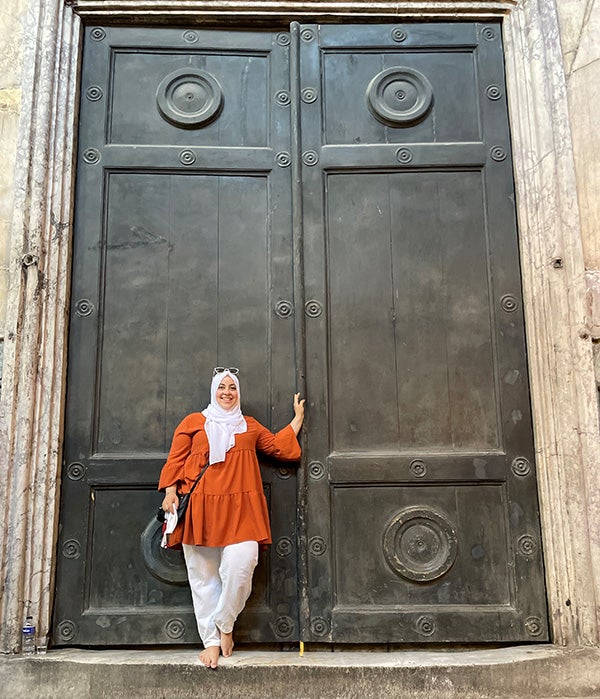 "Food is how I connect with my culture," Ameena said. "I love to explore to new foods and try new places. It's a way for me to improve my Arabic also. When I've had a chance to travel abroad and talk with relatives and friends, learning a new recipe opens me up new Arabic words and the cultural stories that go along with them."
This passion led her and her sister, Safia, to open and run a multi-cultural dessert business from 2017 to 2020 called Halawiat Portland, which sold desserts on social media as well as at markets and fairs. The business featured a memorable baklava, which though being Turkish in origin, has region-specific versions all across the Eastern Mediterranean region.  
"I never really enjoyed or understood art when I was growing up. Its seeming lack of rules didn't make sense to me," she said. "But I discovered baking, and found it was the perfect way for me to be creative while still being scientific. I could play with colors and textures to create something beautiful, just the way an artist does."
Ameena also recognized the aesthetic presentation of her baked goods, noting that people eat with their eyes along with their mouths. "In the process of baking for other people, I've discovered that nothing makes me happier than seeing the joy people get from eating my desserts."
The Nomadic Life
Like many people, Ameena experienced a great sense of upheaval following the outbreak of COVID-19 in 2020. "The pandemic forced us all into our own little corners," she said. "I began to ask myself: 'Where do I fit in this new world?'"
She also was separated from her religious community, due to pandemic closures, which got her thinking about how she could expand her connections, and rethink her situation, despite the challenges of the pandemic.
In the end, she asked herself a simple but challenging question: "What if I just pulled up stakes and moved around?"
And because of her ability to work remotely at Digimarc—that's exactly what she did.
She recently moved from Oregon to Charlotte, North Carolina, where she has many friends and family.  After North Carolina, she plans to spend time in Minnesota with her sister, and after that, it's either Alaska or the Bahamas.
If one could capture the spirit of Ameena's life and passions, it might well be the famous quote from E.M. Forster's novel Howards End: "Only connect! That was the whole of her sermon."