A Solution Proven to Reduce Waste
Digimarc Recycle allows brand owners to increase sustainability by digitizing products and packaging with technology proven to achieve 99% detection. Coupled with consumer engagement capabilities, brands can deliver a direct, digital communications channel with consumers. And, retain a cloud-based record of recycling information that provides new insights.
Read Product Guide
Advantages of Acting Now
Digimarc Recycle delivers plastic recycling solutions that transform the sustainability of your packaging. Learn how your business and stakeholders benefit today – and tomorrow. 
Features
Unique digital identities for your products that interact with digital devices
Direct digital communication channel with consumers
Cloud-based record of current and historical recycling information
Digital watermarks for labels and packaging (2D) and substrates (3D)
Unlimited, extensible product attributes
Retain current workflows; no special inks, chemicals, materials or processes required
Accurate high-speed detection even with damaged or soiled products and packaging
Benefits
Lead the industry toward global reduction in plastic waste
Increase detection accuracy with maximum watermark coverage
Measure environmental impact to support ESG commitments
Comply with increasing regulations, fees, and taxes
Receive higher quality postconsumer recyclate
Gain new data insights about the product lifecycle and usage
Educate consumers and incentivize recycling with consumer engagement campaigns
Address stakeholder concerns, improve brand perception, and build brand equity
Protecting and Scaling Deposit Return Systems
Having a long history protecting the authenticity of currency and media and now improving the sortation of plastic recycling, Digimarc is equally committed to the integrity of recycling deposit return systems (DRS). Deposit schemes provide a financial incentive for consumers to return eligible containers but may motivate fraud. Covert digital watermarks can authenticate real product packaging produced by certified printers, helping drop-off locations avoid returning deposit fees on counterfeits. Watermarks may also be authenticated by mobile phones, useful for small businesses without the scale and resources for reverse vending machines.
Direct-to-Consumer Communications
Now you can enjoy a direct communications channel with consumers wherever they interact with your product – in store, at home, or on the go. When scanned with a smartphone, digitized products can deliver recycling instructions or sustainability content to users of your products, the people who matter most.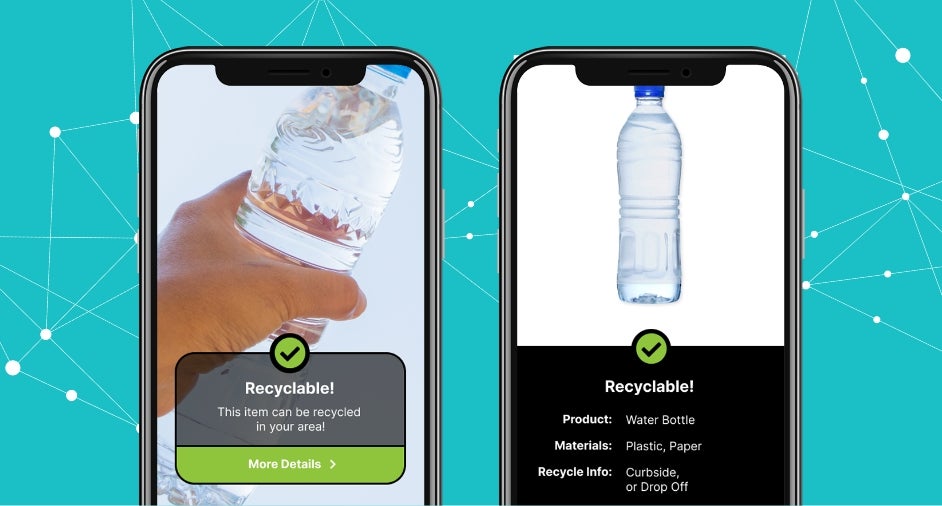 ​​​​​​​Access to Powerful Insights
Digimarc Recycle features dashboards with access to powerful new data on post-purchase consumer behavior and the recyclability of your products and packaging. A multitude of views reveal total volume of products recycled by location and time, enabling brands to compare recycling rates of multiple products and variants and assess plastic recycling trends over time for new insights.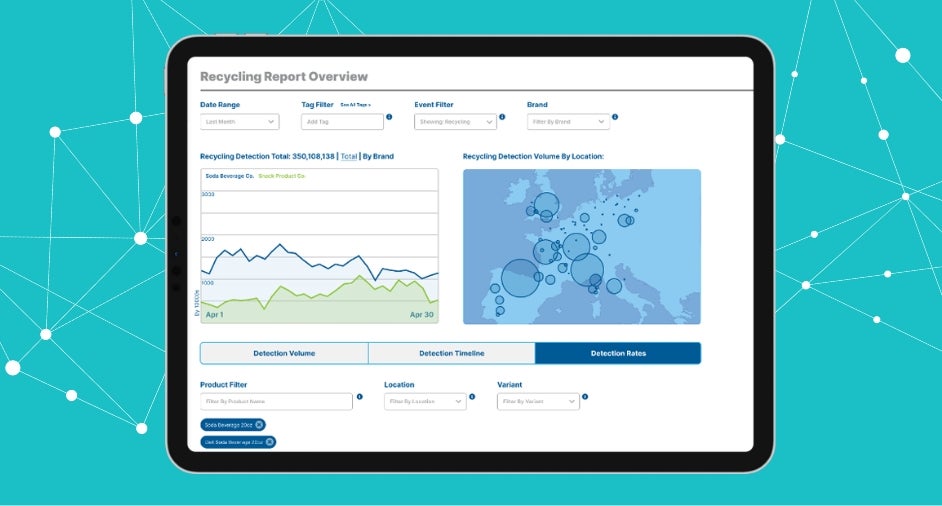 Sustainability Stakeholders
Many important audiences are seeking solutions to waste and stand to benefit from better recycling. 
Consumers
Craving recyclable products, and embracing brands that support their values
Governments
Increasing regulation, fees, tariffs and taxes to drive change
Media
Amplifying the desire for change and exposing brands that are slow to act​
Investors
Demanding brands meet sustainability commitments and reduce reputational risk
Recyclers
Seeking solutions that support larger quantities of higher quality recyclate to sell
The World is Watching
Influential initiatives around the world are driving positive change by embracing Digimarc Recycle now.
HolyGrail 2.0
HolyGrail 2.0 trial demonstrates effectiveness of digital watermarks in recycling, with an average detection rate of 99 percent.
Circular Plastic Taskforce
The Circular Plastic Taskforce launches pilot with Digimarc to optimize sortation of flexible packaging in Canada, a North American first.
Digimarc Recycle Pricing
Number of Digital Twins
>300M - 500M Items
>500M - 1B Items
5,001 to 10,000
$165
$176
10,001 to 20,000
$145
$150
Pricing subject to Digimarc's standard terms and conditions.
A Digital Twin is created for each unique set of items; can be per SKU (GTIN) or more specific (e.g., GTIN + variant) to provide desired data granularity
Annual subscription offered by applicable Digital Twin tier, not per Digital Twin
Smaller companies interested in getting started, contact us for pricing tiers <1,001 Digital Twins and/or <300M items
Pricing periodically evaluated and subject to change
Complete Your Digital Transformation
The leader in product digitization, Digimarc exclusively offers the Digimarc Illuminate platform to aggregate product information and interaction events, compile data about the product journey, and analyze new intelligence your business can proactively leverage for success. Take the first step toward completing your digital transformation initiative by digitizing your products.
Discover the Platform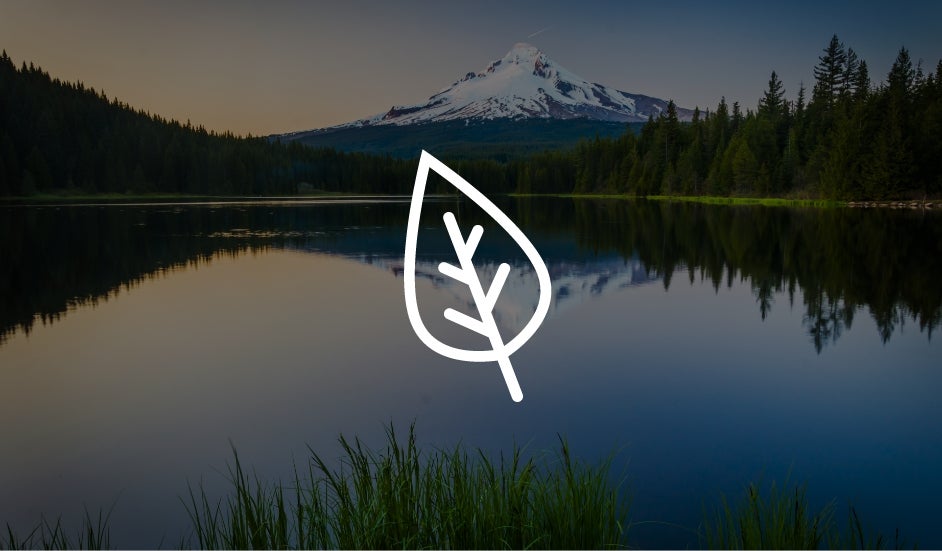 Customer Success
Netto is positioned to adopt Digimarc Recycle for more efficient plastic recycling.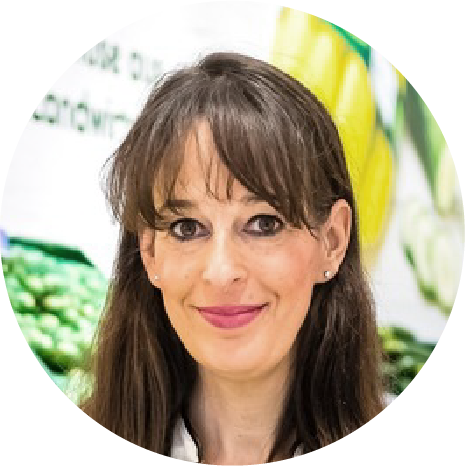 "At Netto, we are committed to less plastic packaging, more recycling, and more responsibility. Digimarc is a valued partner in supporting us in achieving our sustainability goals as we look to the future"
Christina Stylianou
Corporate Spokesperson
Netto
See Everything, Achieve Anything™
With visibility into everything, you gain critical intelligence to guide you in ensuring authenticity, reducing costs, increasing operational agility, and improving circularity at every step along the supply chain. Get started today.