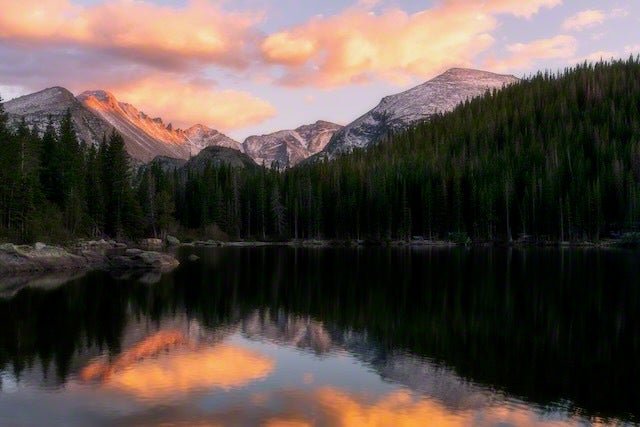 Bear Lake – Rocky Mountain National Park
Photo by: Ken Sickles
Watermarked by: Digimarc
About a year after moving to the wonderful state of Colorado, I felt compelled to share the stunning natural beauty of the mountains, forests, canyons, and rivers that I call home. Even as a hobbyist photographer (I am using that term very lightly), I take great pride in my photographs and the amount of time and effort it takes to capture each one of them. Because of this passion, I can appreciate even more the incredible amount of time, expense, creativity, and energy it takes for content owners to create original digital assets. Whether you're an individual content creator or influencer, or you have responsibility for a company's brand marketing, content marketing, information security, risk management, or intellectual property protection, your digital content is valuable and should be protected. 
Why Protect Your Digital Content 
In an era of generative artificial intelligence (Gen AI), the risk is exponential. As you read this, an army of GenAI bots are using your copyrighted content without your consent or compensation to educate and train their models. Once this happens, it's too late – your assets are exposed to misuse and theft, which degrades your personal or corporate brand. 
But the issue goes further than images simply being misused and stolen. There needs to be a foundation to an ecosystem of trust, authenticity, and security in the online world. In the future, your digital assets will make ecommerce transactions more trustworthy, email more secure, and social media a safer place, but just like with copyright protection, the ability to capture these benefits is gone once the assets have been distributed or published.  
Digimarc Validate 
Fortunately, there is a solution. Digimarc is the pioneer and leader in the science of digital watermarking. For nearly 30 years, our innovations and intellectual property in digital watermarking have been deployed at unprecedented scale. We are excited to take our expertise and experience to introduce an expanded version of Digimarc Validate, extending its powerful identification and protection capabilities to the digital world.
Digimarc Validate provides a subscription-based, easy-to-use, affordable self-serve tool that fights back against theft, unauthorized repurposing, and misappropriation by digitally claiming your copyright ownership. Digimarc Validate offers immediate digital copyright protection and is the only solution available that is powered by Secure, Automated, Fair, and Efficient (SAFE™) digital watermarks.