Dom Guinard, VP Cloud & IoT @Digimarc
The GS1 EPCIS 2.0 standard is now ratified. EPCIS represents an unprecedented effort to build a global standard to allow better traceability, transparency and interoperability. In a world where supply chain efficiency, sustainability and consumer transparency are the focus of global discussions, regulations, and initiatives – the time is right for foundational change.
About a year ago we announced the imminent release of the EPCIS 2.0 standard and were excited about the opportunities for supply chains it would support. Today we are happy to announce that the standard has been ratified. Why did it take so long? Well, primarily because of the overwhelming amount of feedback we – the Working Group – received from the community. The input validated how timely the standard is and more importantly, the interest and need among brands, researchers, non-for profit organizations and supply chain contributors, all the way to the blockchain space. The Working Group collaborated on this standard for more than four years making validation beyond the GS1 community greatly welcomed.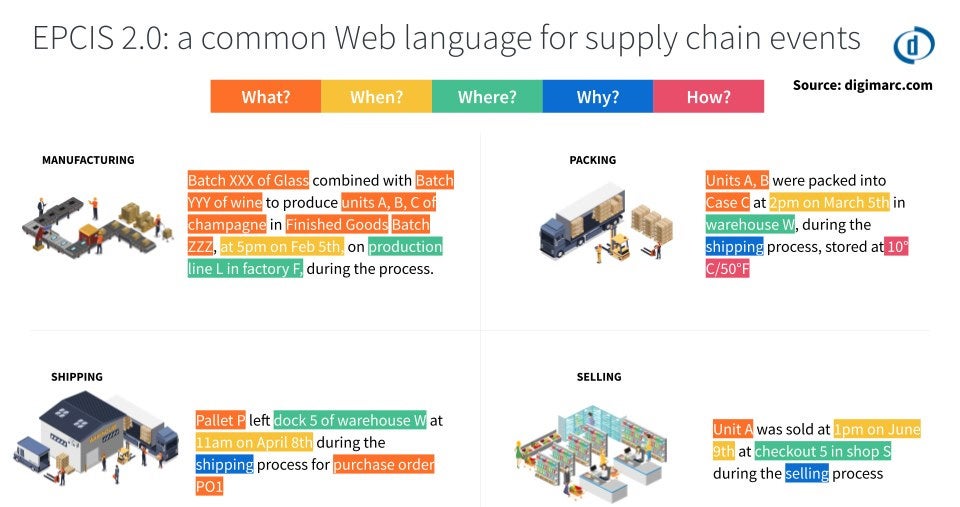 EPCIS as a standard is not new but version 2.0 is a major rewrite that brings supply chain data to the modern web. It features a Web API (which we were responsible for leading the work on) with JSON (and JSON-LD) payloads to allow apps leveraging EPCIS events to do so in a very straightforward way. Importantly, it makes EPCIS 2.0 compatible with the standard unique product URLs (aka GS1 Digital Links), and it provides support for adding IoT sensor data to supply chain events such as a temperature, light or humidity level.
How to navigate the standard?
The EPCIS 2.0 standard is split into two very detailed documents:
EPCIS 2.0 - covering all aspects related to data formats, data models and APIs.
CBV 2.0 (Core Business Vocabulary) - covering the vocabulary of terms that can be used as part of EPCIS events. For example a list of valid terms for business steps.
Now, you are welcome to read 300+ pages of the standard documents, but if you'd rather get to the essence of it quickly, here are a couple of useful links to get you started:
EPCIS2.js - an open source Javascript SDK that we created to facilitate developing web apps interacting with EPCIS 2.0 compliant repositories.
Finally, if you'd like to leverage Digimarc's early support for EPCIS 2.0 you can find our documentation here.
We'll be posting more about EPCIS 2.0 in the next few months so stay tuned for more showcasing and technical details.
What's next for EPCIS?
In 2007, when the EPCIS 1.0 standard was released it faced several challenges in securing mass scale adoption. This can be explained by a number of factors, but I believe that the essence was that the world simply wasn't ready for transparent and digitized supply chains: back then, transparency was a taboo subject. As a result, the need and/or demand for interoperability was limited. The past 10 years have witnessed an unprecedented amount of pressure from consumers, NGOs and regulators to demonstrate sustainability, and social and environmental impact credentials.
Add to this the fact that EPCIS 2.0, unlike the previous versions, truly leverages the biggest integration platform of all time: the World Wide Web and you have the perfect setup for adoption at a fast pace.
At Digimarc, we have been leading the way towards EPCIS 2.0 adoption, not only by helping to write the standard but also by deploying live customer projects delivering applications using EPCIS 2.0 event in combination with the EVRYTHNG Product Cloud. For instance, the Australian Table Grapes Association (ATGA), with award winning Australian grapes now fully traceable thanks to a GS1 Digital Link QR code used to allow consumers to retrieve detailed product provenance information captured as EPCIS events, including IoT data like temperature logging. Or by building tools to ease adoption by a larger community like our EPCIS2.js toolkit, developed in collaboration with Zebra.
We are also active with the Digital Product Passport. This EU initiative is part of the Green Deal and seeks to empower consumers for the green transition by allowing them to access accurate, transparent and actionable information from and about the products they consume. EPCIS 2.0 and the GS1 Digital Link are perfect standards to implement Digital Product Passports. In fact, we have demonstrated proof of this system in a project with IOTA, one of our preferred blockchain partners, to track and validate the entire lifecycle of electric vehicle batteries.
Digimarc and IOTA have worked together to build a state-of-the-art Digital Product Passport system that leverages the best of IOTA's Distributed Ledger technology with the best of EVRYTHNG Product Cloud by Digimarc.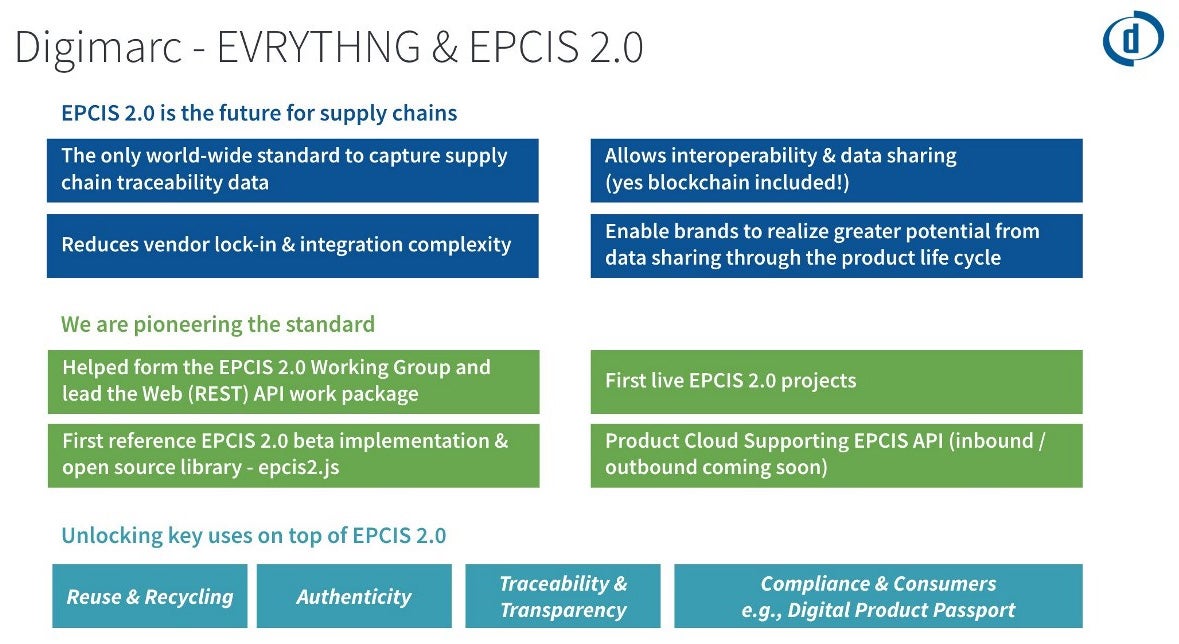 While I might not be fully objective, I think the future for the EPCIS 2.0 standard is quite promising. It is the way supply chains will be digitized looking forward. Just like the GTIN boosted global commerce, EPCIS 2.0 should be a step change towards better, more efficient, interoperable and ultimately more transparent supply chains.
Contact us if you'd like to learn more about EVRYTHNG Product Cloud by Digimarc and its native support for EPCIS 2.0. We look forward to helping you implement your next supply chain transformation with EPCIS 2.0.