Growing up in California's Inland Empire in the 1990s, Apple's aesthetics had always fascinated Mario Guzman. He remembers it was the design of the iMac, more than anything else, that got his attention. "I remember being in middle school, seventh grade, and my teacher had a subscription to Time magazine. (Apple founder) Steve Jobs always seemed to be on the cover. I was fascinated with him, and I researched the heck out of Apple."
Twenty years later, this passion would lead Mario to becoming an accomplished iOS and macOS developer at Digimarc as a Sr. Software Engineer, while still making time to develop a popular homage to classic macOS music widgets.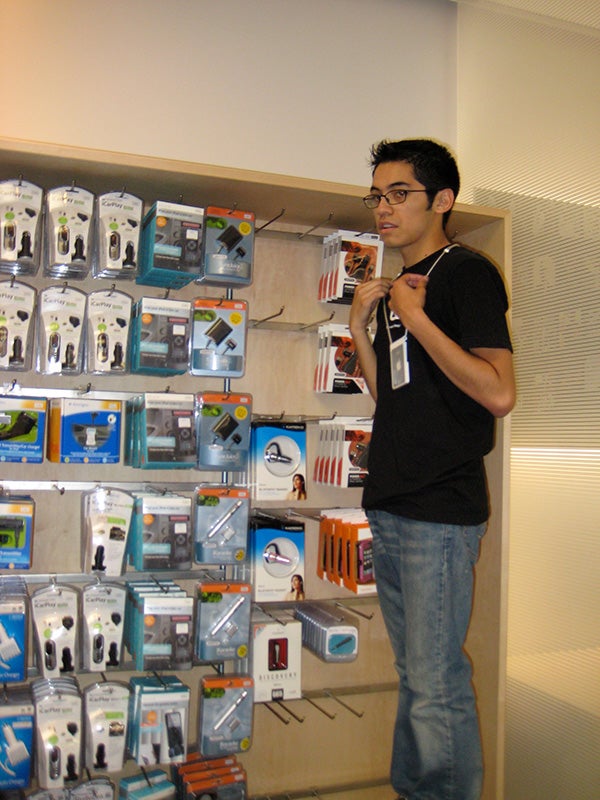 Mario working at the Apple Store in June, 2007, just before the historic iPhone launch.
Apple Store Creative
Mario's path from 11-year-old iMac user to developer was not inevitable, but more the product of passion and hard work. "I'd never even seen a coding book until I went to college," he said, recalling his time growing up in Riverside, Calif. But even as a boy, he knew there was something special about the design of Apple hardware. "When I was in middle school in 2001, I sent an email to Apple asking what I should major in if I wanted to design computer hardware. I didn't really expect an answer—but I heard back in 12 hours. They recommended electrical engineering, so that's what I decided to study."
After high school, Mario went to Cal Poly Pomona (Pomona, Calif.) to study electrical engineering. He needed a part time job to handle expenses, so where better to work than an Apple Store? "I had just turned 18, so I thought it would be cool to work at an Apple Store in nearby Rancho Cucamonga. They were hesitant to hire me because I didn't have any retail experience, but I had scrubbed the website for information—and I knew my stuff," he said.
He was hired initially as a seasonal employee, but eventually became permanent, and worked as a "creative," someone who does one-to-one sessions with Apple customers on any Apple-made Mac application. "My favorite app to teach was iTunes, which was basically a music jukebox to organize, play and synchronize music to your iPod."
But it wasn't always easy. Mario didn't own a car for several months, and he had to continually pay friends to drive him between Pomona and Rancho Cucamonga.
A C++ Idea
During Mario's time at Cal Poly, he decided to take a C++ course, where he discovered programming. "I realized: 'Wow. This is actually fun.' I was so into the subject, I began reading ahead in the book. I said to myself: 'How do I do more of this?'" He quickly switched his major to computer science.
After graduation, and a stint as product manager at a software development firm, Mario took a job in Portland, Oregon, to be close to his brother. In 2015, he got a call from a Digimarc engineer, who had been impressed with his LinkedIn account, and said they needed mobile developers. Since then, Mario has been a key member of the Digimarc team developing apps for iPhone, including work on Digimarc Discover and Digimarc Verify as well as Verify for macOS.
Among the many projects and teams Mario works on at Digimarc, he is most passionate about the Digimarc Mobile SDK (DMSDK), which is a comprehensive and robust scanning software for Digimarc Watermarks on product packaging, labels, commercial print, etc., as well as for QR codes and the most common traditional 1D barcodes found in retail. "The DMSDK is a project that requires a lot of thought and planning before implementing anything because accuracy and reliability is key," Mario said. "It can be very tough to work in this space, but it's enjoyable because it keeps me on my toes."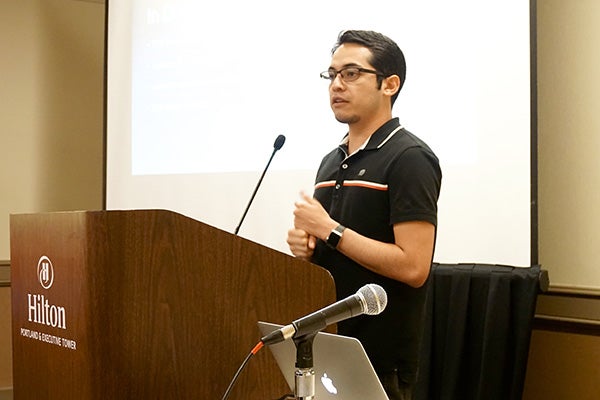 Speaking at a public event in Portland about his PDX Transit app.
The Nostalgia Effect
"I've always had a love of music and I remain obsessed with my music collection," Mario said. And as he got older, and music streaming services became the new way to consume music, he became nostalgic for his days of listening on an iPod. "I decided I wanted to make my own music player, something even better than what Apple was providing, but unfortunately, Apple does not grant access to their music framework on macOS the way they do on iOS." He began the project, but didn't finish it, leading to the inevitable question: What can I do now?
He started to focus on the design of software from the early 2000s when buttons actually looked like buttons. Like you could touch them. The term for this look and appearance is skeuomorphism. Today, in contrast, designers favor a flat style that began to take over around 2012.
Mario had a strong nostalgia for this type of realistic design, and believes design-wise, "it put Apple on the map, and was the pinnacle of design back in the day," he said.  Mario spent a lot of time on Twitter interacting with other developers and realized he was not alone in this craving the old look and feel.
"I decided I wanted to make my own music player, something even better than what Apple was providing."
Party Like it's 2005
Mario decided it was time to make his iTunes music widget and make it look just as it did in 2005. And he did it—not by using a single JPEG—but by doing 100% of the drawing coding himself to make it look crisp and realistic on a monitor. It was an immediate success and he released it on his website for free. He soon had people from all over the world asking to localize the languages. As of today, it's now localized in Spanish, Latin American Spanish, Finnish, German and Polish. It was also featured on various tech news sites and blogs including The Verge and Uncrate.
His friends have urged him to accept donations, "but it's never occurred to me. It's just something I do because I love it. And it reminds me of a certain time in my life. A good time in my life."
When asked what is next for his creativity and passion, Mario said he is currently re-writing his PDX Transit app for iOS and watchOS in SwiftUI (a new framework to develop apps for Apple platforms), which provides updated transit info for the Portland, Oregon, area.